Hello friends and happy first day of May. We are super excited to share our latest release with you as we have some awesome new products including a couple product types that we've never had before. These include a beautiful floral cling stamp and die combo. That's right - you will get the gorgeous floral image along with a coordinating die to cut out the tops of the flower image.
We also have not one but two new stamp sets that are in a fun new size. These stamps are sized at 4x11. This expanded size allows for us to do some super fun things and we think you are going to love what we have to offer.
We also have a super fun new paper collection, a new stencil, a gorgeous new sentiment set and a die set that is perfectly sized to go with our popular Simple Sentiment Strips stamp set.
All products are listed and linked below.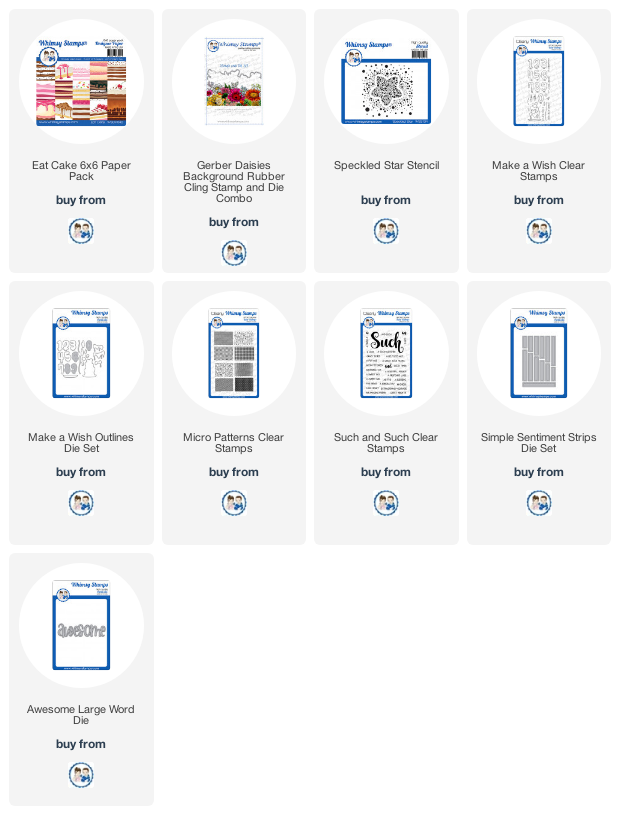 Of course our designers have been busy behind the scenes creating with these amazing projects. Here is just a small sampling of what they have come up with. You will find much more inspiration on the product pages in the shop so be sure to check that out to help get your creative juices flowing.
Lastly, as a reminder, if you haven't checked out our new shopping feature yet, it's a fantastic tool and we've done all the hard work for you by listing and linking all the products a designer used for a particular product.
EXCITING New Shopping Feature
If you already enjoy shopping with Whimsy Stamps you're going to love our new enhanced shopping tool. Just click HERE for our store home page and scroll to the bottom where it says "Shop Our Creations". Click on any of the projects listed and all the products used for those projects will instantly be at your fingertips, and you can easily add any of the items right to your cart. EAP! This is such a fun way to shop Whimsy products…have FUN!