Whimsy Stamps is located in Southwest, FL which was just hit by Hurricane Ian. Owner, Denise, and her family in Punta Gorda as well as creative director, Deb, and her family in Cape Coral are all okay and safe. Their homes are live-able but did sustain damage. There is currently no power, water, or internet service, and cell reception is spotty. They would like to thank all of those customers who have reached out expressing their concern and prayers. It's means a great deal to feel their support.
The communities of Punta Gorda and Cape Coral, as well as many others in Southwest, FL, have been completely devastated by this powerful hurricane. There truly is no way to describe the severity of the destruction and turmoil this disaster has created for so many. Some people have lost everything and these communities have only limited access to basic necessities. It will be many weeks and months before these communities are fully recovered, rebuilt, and back to normal. Denise and Deb consider themselves to be extremely lucky to have suffered only moderate property loss and to be safe at home with their loved ones.
Fortunately, the Whimsy Stamps Boutique and Warehouse only sustained minimal damage. It remains closed until all services are restored and we are able to safely operate. The online website will remain open and customers may continue to shop. Every order our customers place greatly helps to keep our business going and to support our employees and their families. We ask for your patience and understanding as order processing and shipping may be delayed. We are assessing on a day-to-day basis and will do our best to get fully back up and running as soon as possible.
Although, we have decided to cancel our annual 31 Nights of Halloween event, our October Releases will go live as scheduled. We hope you will enjoy the new products our team has worked hard designing for you. Customers may purchase only through the website as our boutique will be closed for at least the next couple of weeks.
We have many customers and friends in various communities here in Southwest Florida, our hearts and prayers go out to them as well as all those affected by terrible hurricane. We thank you all for your continued support.
Welcome, friends. Thanks so much for stopping by Whimsy Stamps. We are excited to be bringing you our first release in October. We have a couple great standalone die sets, some new toner panels, 2 rubber cling stamps, as well as 3 clear stamps.
The newly released products are listed and linked below.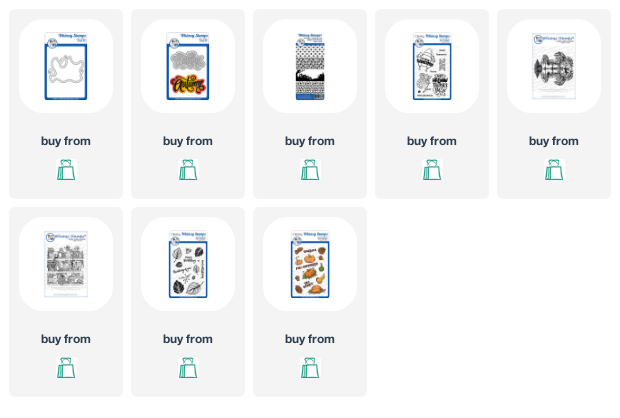 Here is some amazing inspiration from our New Release team. And as always, you will find tons more on the individual product pages in the store. You can also join us on Instagram and Facebook to see what is shared there. And our video team will be sharing new tutorials over on our
YouTube channel
.